Beat
Separate eggs as you will only be using the white in this recipe.
Place the egg white in a bowl and beat with balloon whisk.
Add the vanilla and almond extracts and the vegetable oil and whisk again until the mixture becomes a little foamy.
Beat Again
Place the flour, cornstarch, salt and sugar into a mixing bowl and stir in the water.
You may find it easier to do use an electric beater to get this mixture fully combined and resembles a thick paste.
Combine
Now take your egg mixture and add small amounts to the flour mixture and combine together using electric beaters.
Continue adding egg mixture until there is none left and you have a smooth batter, runny batter.
Arrange
Place tablespoons of batter onto a greased cookie sheet making sure to space each one about 2 inches apart. Tilt the cookie sheet back and forth and from side to side so that the batter spreads out evenly into a fairly large circle.
Don't worry too much about trying to get perfect circles as the heat from the oven will help to spread the batter before they start to cook. (You may want to start by only baking a couple of cookies before you become familiar with the process).
Bake for 10 - 15 minutes, or until the edges of the cookies start to turn a golden brown color and they start to come away from the cookie sheet.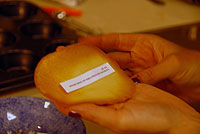 Remove
Remove the cookie tray from the oven, remove a cookie using a spatula and place it on the palm of your hand (use caution as the cookies will be very hot so gloves should be used to protect your hands).
You will need to work quickly! Place a pre-cut fortune on to the middle of the cookie.
Fold
Now form the cookie shape by folding the cookie in half and then pulling the 2 outer points together.
Place the folded cookie into one of the cavities on your muffin tray and leave to cool.
As the cookie cools it will harden and keep the classic fortune cookie shape.
Finished!
Now that you have you've finished making your fortune cookies, you can share them with your friends and family.
Variations would be to use food coloring to give your cookies a seasonal touch: green for Halloween and red for the winter holiday season.
Give your fortune cookies a gourmet flavor by dipping them in tempered chocolate, or decorate with sprinkles or other edible decorations.
Useful Links